GARFIELD'S WILD RIDE
See the much-loved original lazy cat move faster than you ever thought possible in the side-scrolling runner coming to smartphones and tablets this Spring
Taking a break from sleeping, eating lasagna and clawing the curtains, BANDAI NAMCO Games Europe today announced Garfield's Wild Ride, the madcap side-scrolling runner coming to smartphones and tablets this spring.
With so much time spent sleeping it's no surprise that Garfield dreams. A lot. And when he does, his normal lasagna-stuffed physical form is left in the dust by fantasy flying Garfield. Yes!  In his dreams Garfield can fly!  Who knew? The lazy cat's aerial-inclined imagination unlocks a wild game world of cat acrobatics, pasta-themed pickups and nutty bonuses, perfect for any feline fun-fancying player.
With simple single-finger gameplay to take to the air, players navigate Garfield through an ever more perilous series of hazards to complete 45 different missions across 5 wildly varied game worlds. The numerous bonus pickups include riding a giant Odie or strapping on elbow pads for a spot of skateboarding, with the option to purchase coins for extra in-game items. Players can dress up Garfield in all kinds of crazy costumes – including more available to buy in-game – from a spacesuit to a festive Santa outfit. Garfield may not be as tall as Santa, but he's sure got the girth.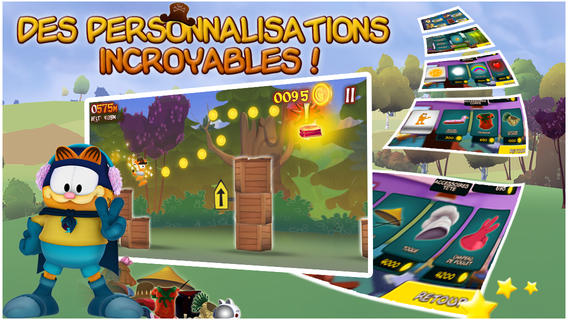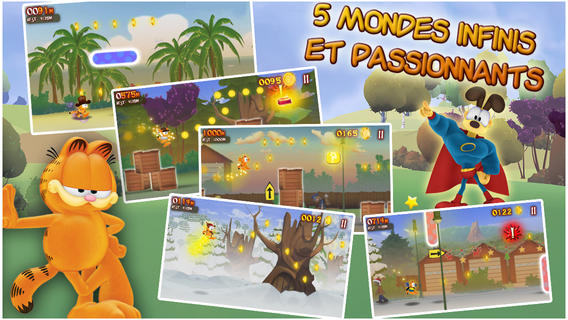 Description
Garfield's wildest adventure!

Garfield can finally do what he does best: sleep! But little does the fat cat know that his favorite lazy pastime is the key to excitement and adventure.
In Garfield's dreams, he can fly! Just touch the screen to take off and release to descend. Avoid obstacles and enemies to clear the various levels. On your way, collect coins and lasagna to help Garfield. With those, you will be able customize Garfield with fun accessories and add power-ups. Dive into this colorful cartoon world that everybody can enjoy!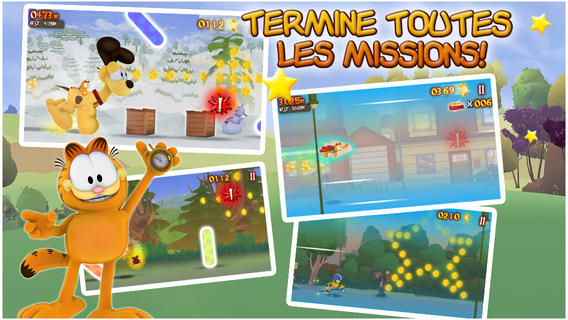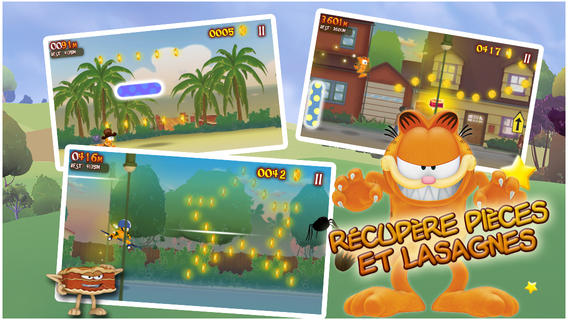 Features
- Both intuitive and easy to use for everyone
- An ever-changing experience: sound effects and music change each time
- An original adventure game straight from Garfield's colorful world
- Endless mode for all 5 different worlds with 45 missions to clear
- Customize Garfield: numerous items and power ups available